ARGALAIR | THE AIR SIDE OF ARGAL
Pump World
News
ARGALAIR | THE AIR SIDE OF ARGAL
24/03/2020
Outstanding performance and low air consumption make ARGALAIR pneumatic pumps the ideal pumping solutions. Available from size 1/2" to 4", the AODD series have a modern design made of high-quality components. The core of improvement in our AODD series simplifies the pumping needs from the clearest to the most viscous liquids. In essence, 5-component Air Distribution System with fast exchanging phase and optimised inlet shape and pump body for higher performance and uniform pumping, various configurations and accessories for a tailor-made solution fitting every application. What differentiates ARGALAIR AODD pumps from other ones?
---

ARGALAIR means modern AODD technology
ARGAL has created the ARGALAIR branch to focus on pneumatic technology thanks to a team of AODD specialists, from engineers to assemblers and testers. Within a short lapse of time, ARGALAIR extended from one series – the ex AODD pumps ASTRA – to 7 innovative and modern series for plenty of pumping solutions.
ASTRAevo – innovative AODD pumps offering unique performance and efficiency
NEW! The ASTRAevo series gets bigger with new sizes 1/4", 3/8" e 3/4" to resolve the issue with narrow spaces and to be adapted to the piping line systems, and are available in PP+glass or PVDF+carbon materials.
ASTRAsolid – built-to-last solid-block version of ASTRAevo pumps for abrasive and heavy-duty applications
ASTRAevo FOOD – FDA version of ASTRAevo pumps for pharmaceutical, cosmetics, and food processes
MISTRAL – big-size 2 – 3 – 4" metallic AODD pumps for corrosive / oil&gas applications and continuous operations
MISTRALsolid – built-to-last 3" solid-block version of MISTRAL pumps for abrasive and heavy-duty processes, within a wide range of temperatures from -40°C to +70°C.
AIRSATURN – A WORLD FIRST! 3 – 4" AODD pumps entirely made of FRP for seawater and chemical applications
QUANTUM – Premium original AODD pumps with unique internal design and 100% recyclable for specific applications
TECHNICAL IMPROVEMENT
ARGAL pays close attention to the details. Our Engineers care about the quality and reliability of our products and do not hesitate to test and re-test the pumps more than necessary. The tests revealed outstanding results with excellent efficiency (high performance and low air consumption), making our customers saving time and expenses on a short and long-term period. If you look for an "all-in-1" formula including high-performing, reduced consumption, constant pressure, long-lasting components, ARGALAIR is your solution.

The good results shown don't come up alone! The technological improvement made behind ARGALAIR pumping solutions has defined the new generation of AODD pumps: optimised design, new internal shape, premium quality components, and innovative integrated air valve system.

Air Distribution System
Our ADS (Air Distribution System) conceived by our Engineers is an easy 5-component construction with the advantages of being faster in the exchanging operation (aspiration/discharging). It also benefits from more significant air unloading capacities, which increases pump efficiency without interfering with air consumption. Plus, the use of anti-abrasive and auto-lubricating polymers helps in reducing notably maintenance operations.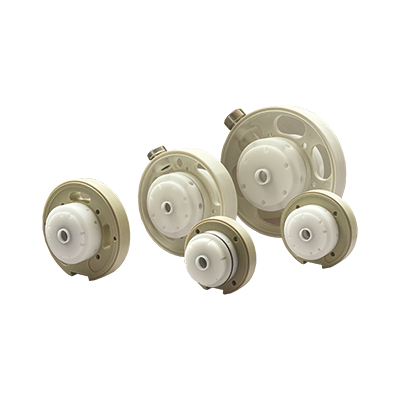 Air Distribution System - different models

Optimised inlet diameter
Our Engineers have re-thought the internal design of the pump to improve the performance: a supersized diameter of the inlet pipe to allow a more uniform transfer of the liquids and a better performance with viscous and dense liquids.

Ice-free system
It is known that AODD pumps usually suffer from ice formation in the distribution system due to the mix between humidity and exhaust air's low temperature.

Our AODD solutions are equipped with an ice-free system: the materials selected for the distribution spool is highly ice-resistant. If ice is formed, it detaches from the shifting spool and then gets ejected from the discharge chamber. The residues won't affect the pump operation. In the QUANTUM series, the ice-free system is innovative: the exhausted air is redirected at low temperature towards the discharge chamber. There is no contact with the Air valve system which is utterly insensitive to humidity in the air.

READY, SET, PUMP!
Because we want to make our air-operated double diaphragm pumps fitting with every requirement of the market, various configurations are possible.

Materials
We offer many combinations of excellent materials chosen for their properties and characteristics according to the liquid to the pump.

PP +glass- chemically and mechanically resistant thermoplastic polymer, ideal for corrosive and moderately abrasive liquids.

PVDF+carbon- highly stable fluoropolymer with high abrasive resistance, ideal for highly abrasive and corrosive liquids and with high temperatures.

PTFE – the QUANTUM series is made of solid-block PTFE, which is a superior thermoplastic polymer offering high mechanical strength and high chemical resistance. PTFE material makes the pumps ideal for handling the hardest liquids (nitric acid, hydrochloric acid, sulfuric acid, sodium hydroxide, potassium hydroxide,...)

UHMW-PE - linear polyethylene with a higher molecular weight compared to the standard PE. It offers optimal abrasion resistance, shock resistance, auto-lubricating, and anti-friction properties, as well as excellent mechanical characteristics, even into cryogenic conditions.
This material offers extra properties: stress resistance, low-friction, very high resistance to acids, alkalis, and a broad temperature range from -40°C to 70°C.

ALU - light and recyclable material with excellent mechanical, chemical, and electrical resistance, ideal for solvents.

AISI 316L - high mechanical and chemical resistance ideal for corrosive agents such as solvents, hydrocarbons, organic fluids. Slightly resistant to strong acids.

FRP – the inherent resistance of the Fiberglass Reinforced Polymer confer to AIRSATURN series the mechanical strength that can be compared to metallic alloys. Different blends of epoxy-vinyl-ester resin are available to broaden the list of liquids, from corrosive to slightly abrasive to chlorinated or fluorinated as well as with a conductive liner for ATEX areas.

FDA directive
ASTRAevo FOOD pumps comply with FDA regulation: the parts in contact with the liquid are made of electroplated AISI 316L, and the surface roughness is made of 125 Ra (with an average of 2,7 μm). In essence, both materials are certified for sensitive food applications.

ATEX Directive - all metallic and thermoplastic standard executions are adequate to operate in explosive atmospheres classified Zone 2 (Serie II 3/3 IIB T4). For operations in areas classified as Zone 1 (Serie II 2/2 GD IIB T4), we offer pumps made of conductive parts for all thermoplastic and metallic versions.

Size
The ARGALAIR series cover a range of size from 1/2" to 4". ASTRAevo, ASTRAsolid, and ASTRAevo FOOD series are available from size 1/2 to 2", with capacities up to 715 l/min. MISTRAL, MISTRALsolid and AIRSATURN are available in 3 or 4", with capacities reaching 1280 l/min.
QUANTUM is available in 3 sizes: 1/2" – 1" – 1 1/2" for pumping up to 400 l/min.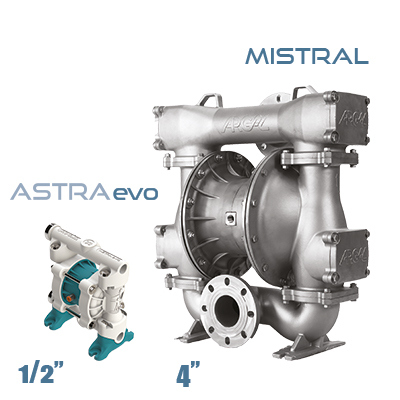 Port Configuration
ARGALAIR AODD series are settable for being easily installed as a self-priming pump, suspended pump, mounted on a trolley, or with a positive suction feature.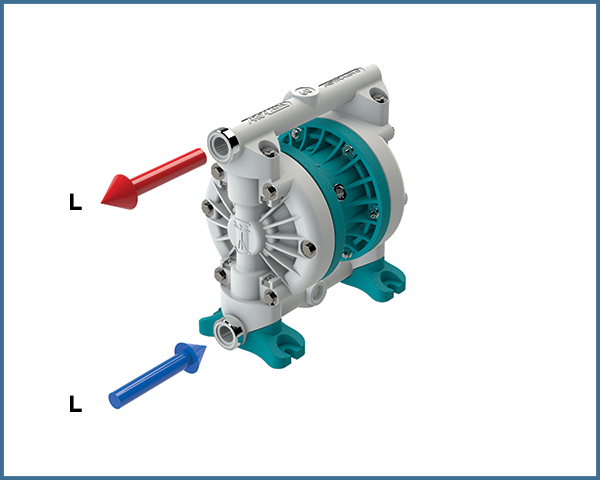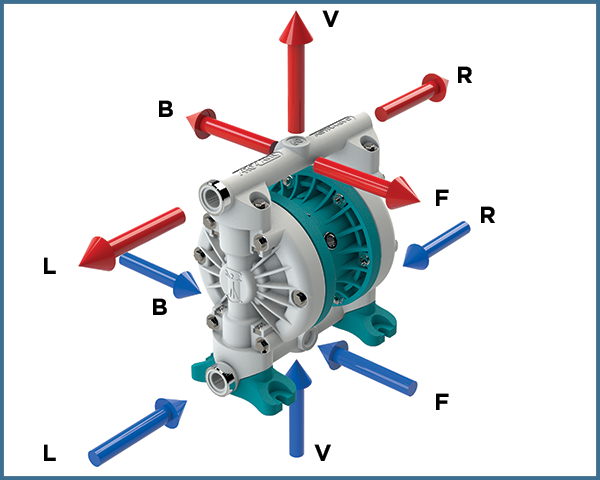 standard connections various connections available upon request

Thermoplastic and metallic pumps can be configured with all the connections available. For the AISI 316L pumps, connections are possible up to model 160. ASTRAevo FOOD and QUANTUM pumps are only settable with standard connections.


Superior diaphragms
Setting your AODD pumps with the correct diaphragms - depending on the liquid pumped - is an important step to get the right solutions. Diaphragms are the heart of the pump allowing the pumping of every liquid, from aspiring to discharging. We offer a combination of various materials to ensure a safe transfer of liquids. The most popular diaphragms are made of TFM (modified PTFE), especially in the aerospace industry, or such as VITON, the best elastomers available on the market for high-temperature processes.

Accessories
Because we want to offer tailored-made solutions, ARGALAIR AODD pumps can be completed with a wide range of accessories:
ARDROP - Pneumatic batch dosing system (Ex-proof)
ARAIR - Air regulator kit
ARCONTROL - Pump monitoring kit
ARDRUM - Drum transfer kit
ARGEMINI - 2-liquid pumping kit
ARCOMBI - Mobile emergency kit
ARFLEX - Pump/plant anti-vibration connections
ARGARD - Diaphragm leakage detector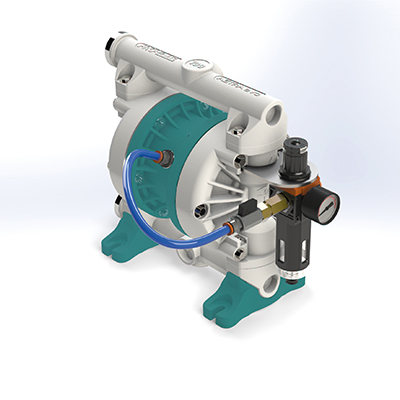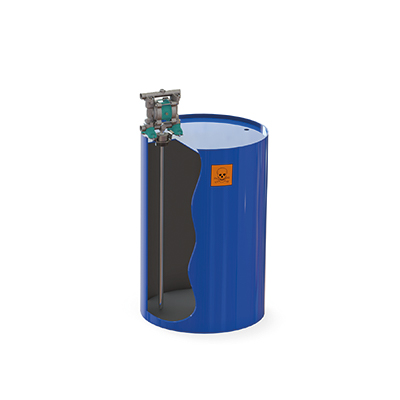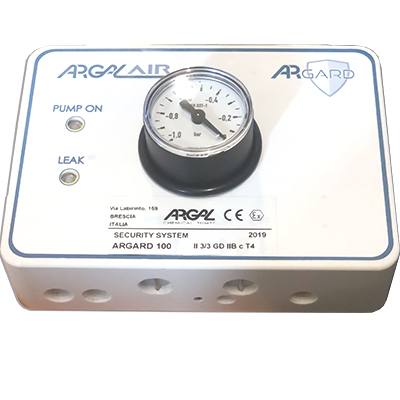 ARAIR ARDRUM ARGARD



Applications
Here is some example of the wide range of applications ARGALAIR AODD pumps can operate in:

ASTRAevo – chemicals, surface treatments, water treatments, aerospace liquid transfer, pulp and paper processes, automotive and many more…
Example of application here

ASTRAevo FOOD - Food/Pharmaceutical industries and various industries using oils and grease.

ASTRAsolid and MISTRALsolid – chemical processes, wastewater treatments, power plants, metal treatments, and industries using abrasive liquids.
Example of application here

MISTRAL – offshore platforms, marine processes, pipeline cleaning, minerals and metals extraction, oil & gas processes.
Example of application here

AIRSATURN – desalination, mobile civil protection, water and wastewater treatments, aquarium and seawater applications.

QUANTUM - chemicals and pharmaceutical industries, semi-conductors, surface treatments and photovoltaic.