2 ISO 2858 process centrifugal pumps under construction for a chemical production plant
Pump World
News
2 ISO 2858 process centrifugal pumps under construction for a chemical production plant
08/03/2019
One of our clients from Pakistan ordered 4 centrifugal process pumps - now under construction - for operating in an important chemical industry.
---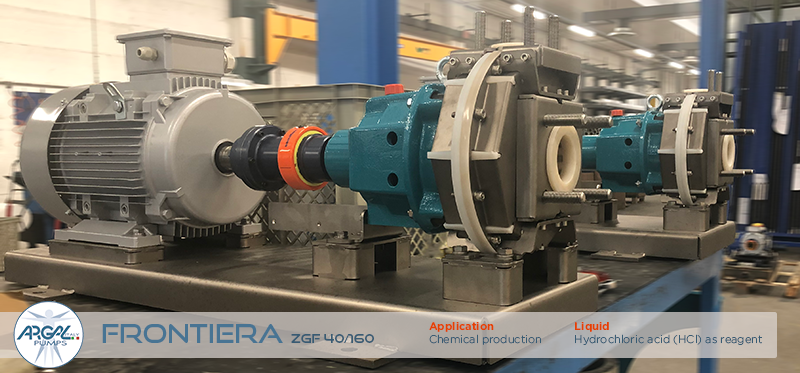 2 of them are from FRONTIERA series: they are ISO 2858 centrifugal pumps and available in 4 different constructions. In this case, the pumps were chosen as long coupled mechanical sealed configuration with the pump casing made of E-CTFE for the transfer of Hydrochloric Acid (HCl) 33% at 40°C with capacities of 40m3/h and heading 30m.

Whereas the 2 other pumps ordered are from SATURNevo FRP series. They also have the long coupled mechanical sealed configuration with the pump body made of the special vinyl ester resin V1C indicated for chloride liquids. Indeed, the SATURNevo ZGS 1,5x1x6 will be operating for the loading of HCl 6% at 50°C.

HCl is used as a reagent for the production of other organic and inorganic compounds - such as ferric acid, aluminium chloride, Poly Vinyl Chloride. It is also a chemical agent that we can find in different industries - where our pumps can also operate- such as steel pickling process, tanning process, oil production, water treatments, pharmaceutical plants just to name a few.