AIRSATURN (DDM)
AIRSATURN series is a WORLD FIRST in the AODD pump technology. The market lacked a solid and effective solution as an alternative to metallic pumps operating in corrosive atmospheres. Entirely made of FRP, AIRSATURN air-operated double diaphragm pumps are available in 3" and 4". Some producers offer plastic pumps up to 3" size only and with the limitations of the thermoplastics, which is not an issue with FRP material.
High hydraulic performance

Very fast air distributor made of only 5 components

​Non-icing air valve system

High chemical resistance and extreme corrosion resistance

Mechanical strength equal to Titanium

No expansion, no retraction, no reaction to hot or cold temperature

Super lightweight for mobile operations

Low maintenance operations and cost

Flame-retardant

For highly corrosive liquids and seawater

Available in different resin mixes according to the liquid pumped

ATEX Zone 2 Conformity ("V1X" conductive liner)
---
​DDM 3" and 4"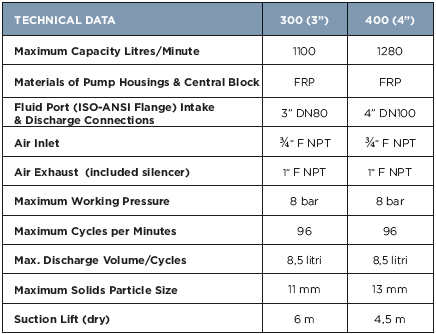 ---
Applications
Desalination

Aquaculture / Fish-farming

Water and wastewater treatments

Civil protection (mobile operations)

Marine processes

Off-shore platforms