SATURNevo FRP pumps' accessories
Pump World
SATURNevo FRP pumps' accessories
29/04/2019
3 FRP centrifugal pumps (ZGS long-coupled model) are being shipped to Asia in a Power Plant. Our customer required V1G standard vinyl ester resin equipped with an ASME B73.1 baseplate and a drain valve for the pump casing.
Made for corrosive liquids, the FRP centrifugal SATURNevo will operate as circulation pumps for seawater with NaOCl at 35°C with a flow rate of 79m3/h and heading of 42m. Our client requested the drain valve kit placed at the bottom of the pump casing to empty it completely before maintenance operations.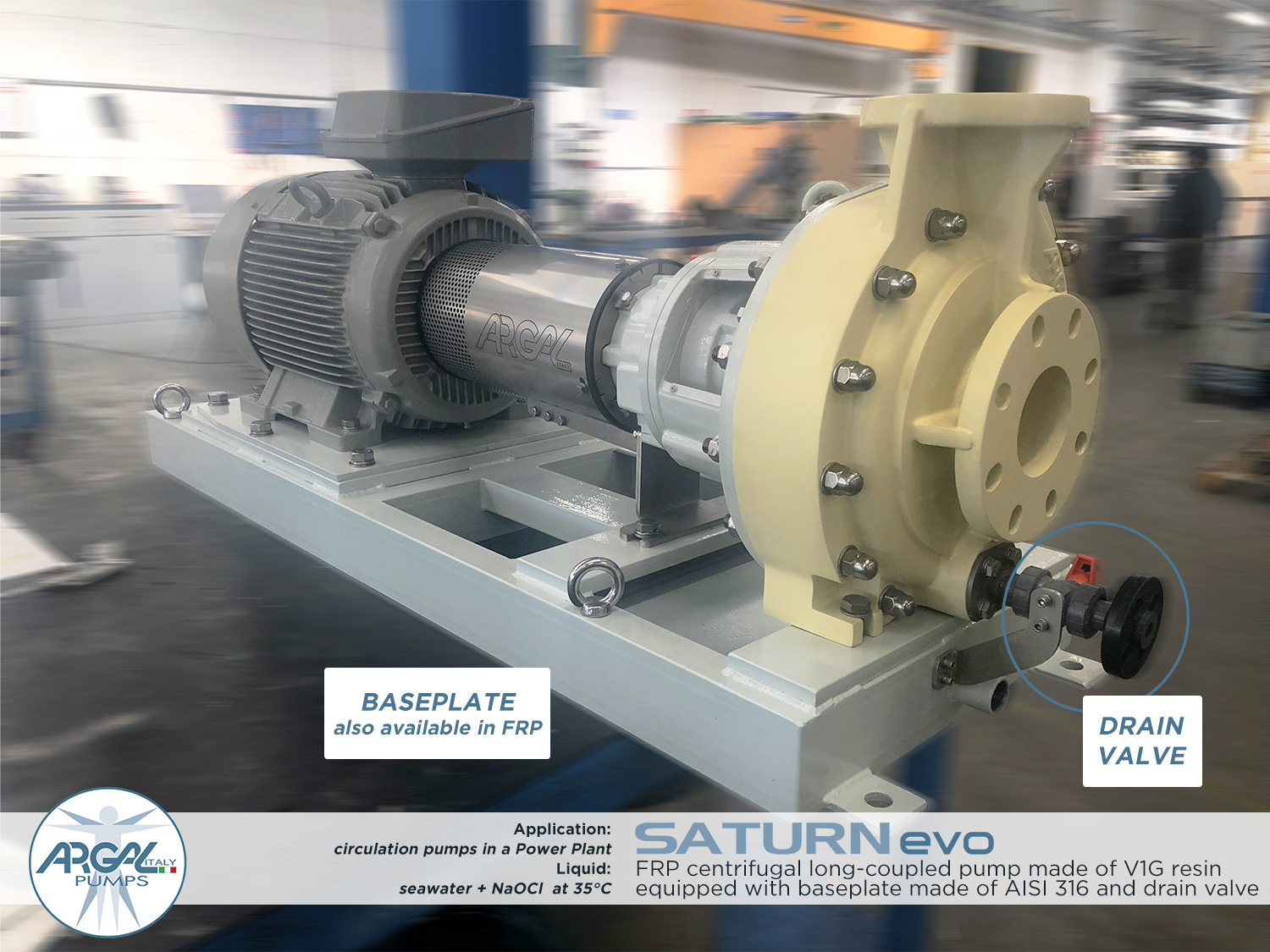 ---
ARGAL's FRP centrifugal pumps are available in close or long-coupled and can be equipped with different accessories to meet our customer requirements. Along with the drain valve kit, ARGAL offers accessories entirely made of fiber reinforced polymer (FRP) giving a longer life cycle and a high corrosion resistance:
The hydrocyclone has a truncated-cone shape allowing separation operations. The fluid tangentially enters through the top unit, creating a spiral-shaping flux, which determines a depressure towards the structure centre. Solids are collapsing down the conical bottom, in the meantime, the clean fluid reaches up to the superior part. The speed of the solid particles' sedimentation follows the Stokes Laws (positive and direct towards the bottom). Thanks to FRP, the hydrocyclone can reach a pressure of up to 10 bar. The hydrocyclone has a port of 1" and is compliant to API PLAN 31 (which ensures the recirculation of the clean liquid in the mechanical seal chamber whereas the impurities are sent back to the pump's inlet pipe.)
ARGAL offers non-metallic polymer baseplate made of FRP resin. These solutions are ideal for corrosive atmospheres and are available in various configurations to fit any model of the SATURNevo series. The FRP baseplates are an excellent choice thanks to their benefits.
Located in front of the pump and directly linked to the inlet pipe flange, the pre-filter holds the liquid's rough impurities to avoid the pump to be damaged.

For more information about the FRP options, please contact us.