OFFICIAL COMUNICATION | CORONAVIRUS COVID-19
Pump World
News
OFFICIAL COMUNICATION | CORONAVIRUS COVID-19
12/03/2020
ENGLISH
ARGAL officially informs you that the factory and the complete factory team involved are proceeding in normal conditions with no limitation. Regarding the Sales, Technical and Administrative teams, the Smart-working mode is applied since the 3rd of March.
ARGAL has undertaken sharp and clear on-time measures to protect the health of our employees and partners, preventing any risk of COVID-19 diffusion.
ARGAL factory remains open as we retain that we can operate responsibly and safely, by implementing the Italian Government measures.
SPANISH
COMUNICACIÓN OFICIAL Coronavirus emergencia COVID-19

ARGAL informa a todos que la producción y todo el personal interesado normalmente está en actividad sin limitaciones. Ya activamos el modo de trabajo Smart Working desde el martes 3 de marzo para todo el personal comercial, técnico y administrativo.

Siempre a tiempo, introdujimos reglas firmes y claras en la firma para salvaguardar la salud de todos nuestros empleados y minimizar los riesgos y problemas causados por el avance de la infección por coronavirus COVID-19.

Hemos optado por no cerrar nuestra fábrica, ya que creemos que es posible y responsable continuar, respetando las normas impuestas por el gobierno italiano.


Thanks / Gracias

Diego Zammarchi CEO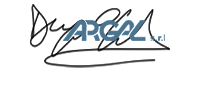 ---

For further information: