SATURNevo fiberglass pumps and ROUTE thermoplastic pumps for oil refinery
Pump World
Installations
SATURNevo fiberglass pumps and ROUTE thermoplastic pumps for oil refinery
29/06/2018

High-quality pumps for a high-quality plant: the SATURNevo pumps are ready to be packed and delivered to our client!
6 SATURNevo mech-sealed close-coupled centrifugal pumps made of fiberglass FRP V1G resin, and 2 ROUTE mag-drive close-coupled centrifugal pumps made of Polypropylene reinforced with fiberglass FRP will be installed in an oil refinery to transfer corrosive liquids at 20°C.

Thanks to the mechanical strength and chemical resistance of the pumps' materials, they could also be used for other applications such as water treatments, power plants, brine treatment or electrolysis for example.
---
Application
Argal solutions will operate as transfer pumps for corrosive liquids from bulk storage tanks to cleaning processes in order to remove impurities from the pumped oil.
Liquids
Sodium hydroxide 30% (180m3/h) for SATURNevo ZMS and ROUTE ZMR

Sodium hypochlorite 12,5% (20m3/h) for ROUTE MR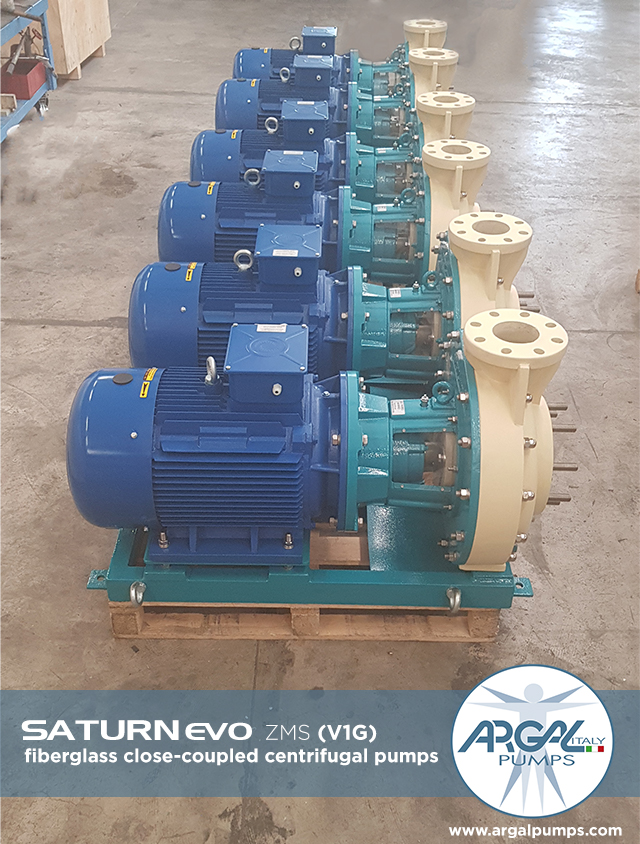 Do you know that our pumps are also suitable for ATEX atmospheres? Find out more on SATURNevo V1X version and ROUTE ATEX!