TECHNOLOGY | Hydrocyclone: the perfect option for the mechanical centrifugal pumps
Pump World
TECHNOLOGY | Hydrocyclone: the perfect option for the mechanical centrifugal pumps
19/10/2018
On the request of an important client, ARGAL's Engineering team has conceived an hydrocyclone for centrifugal pumps able to separate heavy particles from the pumped liquid.
---
Hydrocyclone, what is it?
This simple mechanical appliance is used for separating particles from the liquid. It is usually used for filtering sand in seawater treatment systems, thanks to the correct balance between centrifugal force and gravity.

A special construction
The hydrocyclone has a truncated-cone shape allowing separation operations. The fluid tangentially enters through the top unit, creating a spiral-shaping flux, which determines a depressure towards the structure centre. Solids are collapsing down the conical bottom, in the meantime, the clean fluid reaches up to the superior part. The speed of the solid particles' sedimentation follows the Stokes Laws (positive and direct towards the bottom).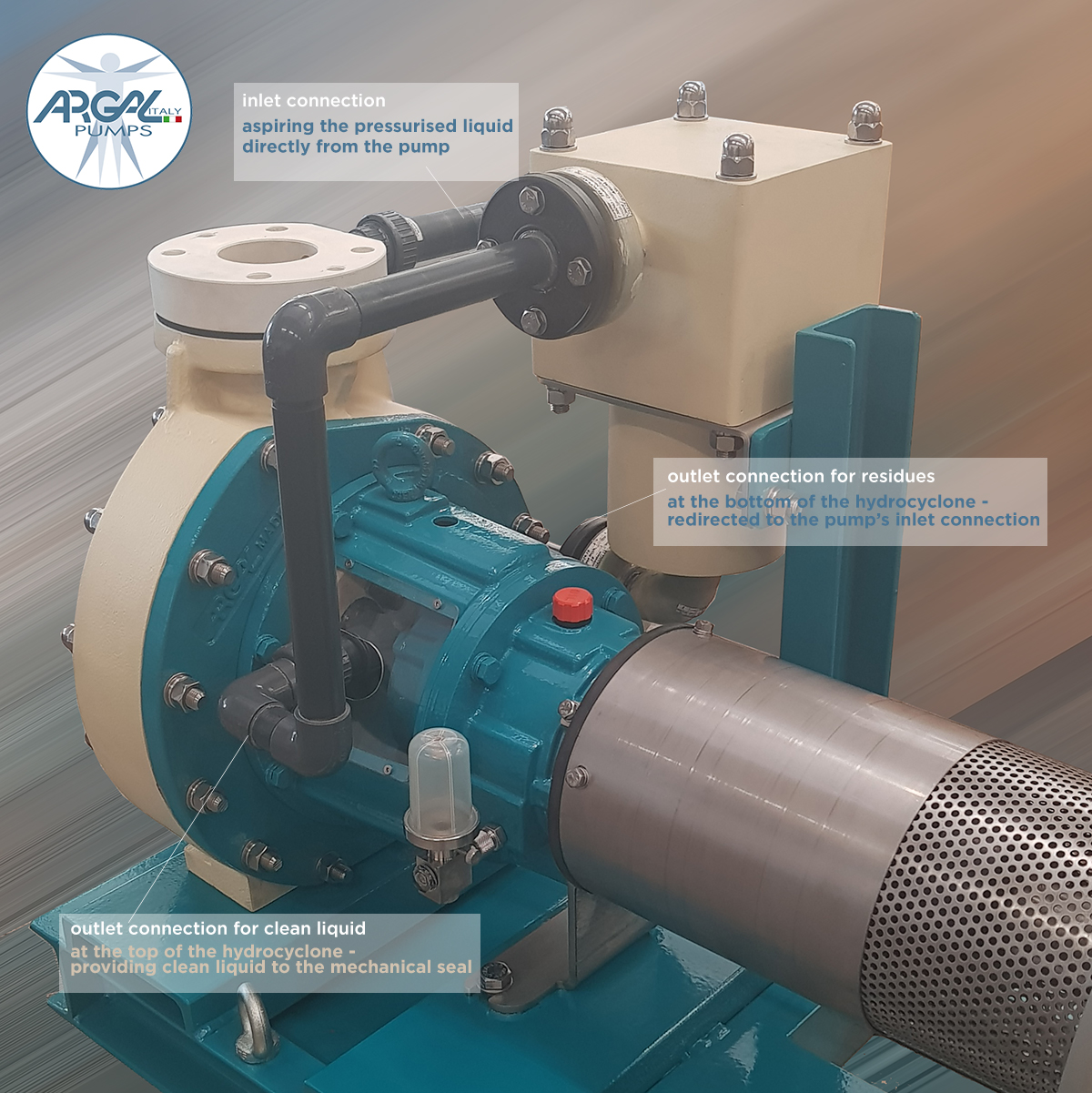 This technique is used for removing residual particles without mechanical stresses.

The truncated-cone shape is important but not only. To make the system working correctly, the pressure is as much important as the shape: an adequated pressure of the liquid allows to develop a spiral flux which does not interfere with the residues or with the clean liquid. In fact, hydrocyclones continuously operate with liquids directly coming from centrifugal pumps (which creates pressure) or with pressurised liquids from external circuits.

Sectors of application
Hydrocyclone are installed onto centrifugal pumps are installed too:
Pulp and paper
Drilling
Mineral extraction process

The plant powered by ARGAL pump and accessory ARCyclon
Our client ordered a SATURNevo 4x3x10 made of V1G resin with the impeller reinforced with carbon fiber and a specific option: hydrocyclone connected to the flushing seal for pump sodium hypochlorite at 40°C.
The SATURNevo pump is installed within a Food & Beverage plant for oil production.
ARCyclon by ARGAL
The hydrocyclone requested by our client was conceived this way: an appliance able to clean the flushed liquid, made of FRP to guarantee great thermal stability and a very high chemical resistance. Thanks to FRP, the hydrocyclone can reach a pressure of up to 10 bar. The hydrocyclone has a port of 1" and is compliant to API PLAN 31 (which ensures the recirculation of the cleaned liquid in the mechanical seal chamber whereas the impurities are sent back to the pump's inlet pipe.)
ARGAL offers ARCyclon as a tailored-made option for the mech-sealed centrifugal pumps. The hydrocyclone technology can, therefore, be set on SATURNevo (ZGS, ZMS), ROUTE (ZMR), FRONTIERA (ZMF, ZGF), ZGE.