DDE 007: the super COMPACT 1/4"" AODD pump
Pump World
News
DDE 007: the super COMPACT 1/4" AODD pump
08/02/2022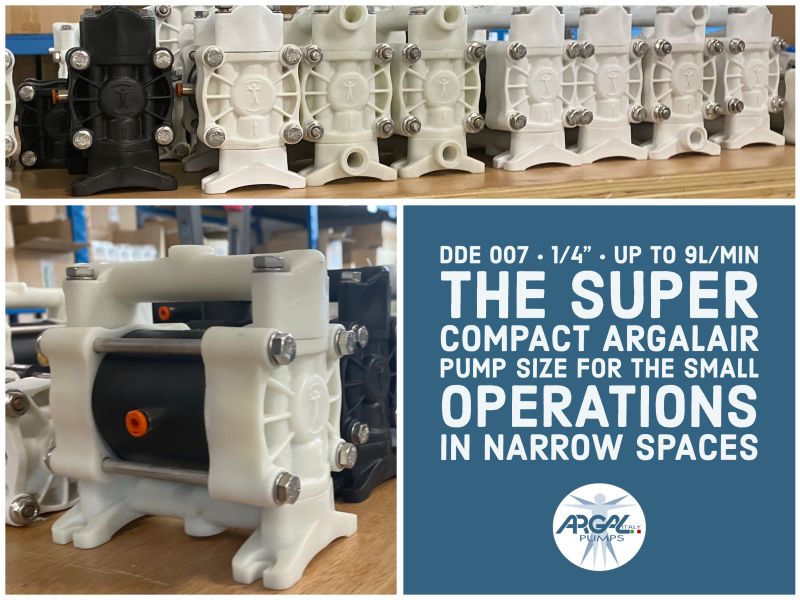 A new small model has joined the ARGALAIR pumps family: DDE 007.
It is compact, it is flexible, and totally reliable for years. Made for OEMs requirements, it has been conceived to fit any system and to pump the most variety of liquids.
What to remember about it?
1/4" size

up to 9l/min

many configurations possible (component materials, connections, accessories...)

made of fantastic plastics: PP+glass, PVDF+carbon or POMc+glass

chemical resistance: fluoropolymer version to avoid any corrosion issue, PP+glass or POMc+glass version for cost-effective and general chemical compatibility

integrated and super silent muffler

diaphragms available in different materials

easy and quick maintenance (when needed...)

non-stalling, ice-free, and lube-free for reliable and safe operations
Where can it be installed?
The super-compact ARGALAIR pumps are mainly installed where it is necessary to transfer, load/unload chemicals, anti-freezing liquids, detergents, inks, paintings, colorants, oils, or water. These liquids are used in the following sectors:
Ceramic industry

Chemical processes

Flexographic industry

Mining industry

Automotive

...

Do you want to try it yourself? Contact our sales team!