SATURNevo range: fiberglass pumps for seawater but also for corrosive liquids
Pump World
SATURNevo range: fiberglass pumps for seawater but also for corrosive liquids
30/03/2018
ARGAL is the very first European producer of centrifugal pumps and the world first of diaphragm pumps made of long strands fiberglass.
Over the last decades, our Research & Development team studied and designed the best pumping solution so far for seawater applications: SATURNevo fiberglass FRP pumps are now worldwide renowned for their benefits compared to competitors. The range includes horizontal centrifugal pumps (close or long coupled), submersible or vertical sump pumps and also the big size AODD pumps, to meet the various types of installation.
Argal team is working hard to improve SATURNevo FRP range to make the difference in the world of seawater application, providing safety and reliability. Our pumps are entirely conceived and produced in Italy in our factory, meeting the ISO 9000 standards.
---

The best alternative to pumps made of exotic alloys
Our fiberglass FRP pumps overcome chlorine and sea water issues related to corrosion, salt and temperature's variability without interfering with the liquid. SATURNevo FRP pumps will not emit any harmful residue that would infect the fluid.
Our FRP pumps' valuable benefits are also including high performance, highly corrosion, wear resistance and a lot more.

Resin Transfer Moulding: the RTM process
Fiberglass material is a natural insulator and does not conduct heat or cold; it does not expand or contract.
We chose to use the best thermoset material, the epoxy-vinyl ester resin. The pump parts are produced throughout RTM process by catalysing the material. Fiberglass appears in long strand mats which are placed into metal moulds. Once closed, a resin is injected through a single inlet to reinforce the fiberglass properties.

Benefits of fiberglass FRP pumps?
dimensional and thermal stability;

higher degree of robustness - no coating needed;

higher mechanical strength and chemical resistance;

longer life cycle;

lower maintenance needs;
Choice of construction
We offer 5 versions of construction to satisfy the requirements related to the marine world.
V1G – standard resin for general use (corrosive liquids containing acids, caustic substances, bleach, sea water, brine water)

V1A – resin mix for abrasive liquids (liquids with a low concentration of abrasion such as diatomaceous earth, ashes, titanium dioxide)

V1C – resin mix for bleaches (fluids such as sodium hypochlorite (NaOCI) or hydroxide peroxide (H2O2)

V1F – resin mix for fluoridric liquids (liquids such as fluoridric acid or concentrated with fluorine)

V1X – resin with conductive liner for ATEX zones (Zone 1 or Zone 2)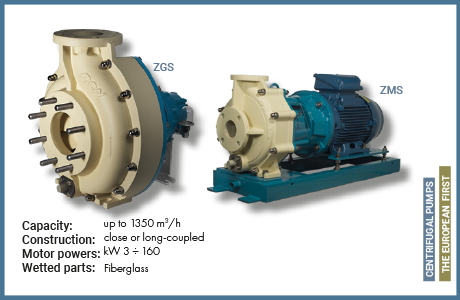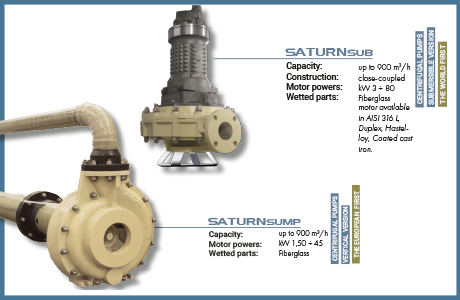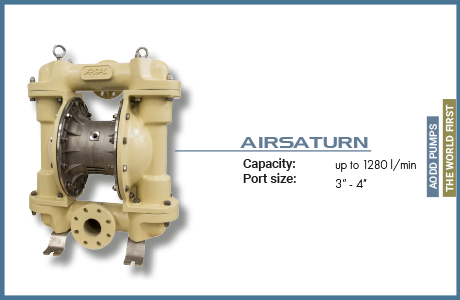 Applications in the aquatic and industrial sectors
Aquarium and marine parks are the main sectors of application for the SATURNevo range. Indeed the liquid must be transported and distributed following specific requirements linked to temperatures, compounds, oxygen and based on the park themes and sea animals.



Saturn centrifugal pumps installed in an aquario.
From tropical water parks to swimming pools to reefs, the pumping system must be continuously efficient and reliable. SATURNevo pumps are ideal for operating as intake pumps or transfer pumps: thanks to the total resistance to corrosion and the optimal performance, they ensure a continuous and perfect service to transport sea water with the mission preserve the marine fauna and flora.

Saturn centrifugal pumps installed in different aquatic parks.
Sea or lake waters are lifted up by submerged pumps and are conveyed into large tanks for next treatments.
Our SATURNevo pumps are also installed in the other operating rooms as transfer pumps for drafting the liquid from filtration process to aeration or finale distribution processes.
As per aquarium and aquatic parks, our fiberglass pumps have a primary role in the desalination process. This application requires efficient and reliable solutions with high corrosion resistance and high pumping performance. Inside desalination plant, our horizontal centrifugal pumps are installed as seawater intake pumps, as transfer pumps from a process to another and also as filtration pumps at low pressure to bring water in the filtration phase o to collect highly concentrated water (residue of salt and chlorine) in the concentrated treatment phase.



Various Saturn centrifugal pumps installed in desalination plant, electrochlorination and mining processes.
Those applications are not the only ones; the SATURNevo pumps can operate in many other processes such as scrubbers for the recirculation of cleaning solutions into the tank to eliminate toxic vapours before being released into the atmosphere. In the chemical and petrochemical industries, our fiberglass pumps are ideal for transporting wastewater or waste chemicals as well as corrosive acids. Whereas in the metal finishing processes and pulp and paper sector, they are installed for moving highly corrosive acids and plating solutions up to 100°C.
ARGAL offers a great customisation service to make the pumps fitting your requirements according to the material of construction, the typology of the pump and the performance.