ASTRAevo | More than expected
Pump World
ASTRAevo | More than expected
25/09/2018
ARGAL offers high-performant and quality pumps never seen before on the market.

We are pleased to present you ARGAL's latest innovation. Our new AODD pumps came out with outstanding performance and low-air consumption making ASTRAevo series the ideal pumping solutions. The ASTRAevo pumps are available from size 1/2" to size 2."
The design is modern with high-quality components. The core of improvement in the AODD series simplifies the pumping needs from the clearest to the most viscous liquids.
---
Performance and Air Consumption
ARGAL Quality is synonym with close attention to details.

Our Engineers care about the quality and reliability of our products and do not hesitate to test them more than the necessary.
These tests have revealed outstanding results
by showing unexpected performance. As per example, our
DDE 650 pump
has initially been made for performing capacities up to 650 l/min, but tests unveiled unseen-before capacities that now reach up to 715 l/min with air consumption of 3500 Nl/min (instead of the expected 4800 Nl/min).
ASTRAevo pumps
are the ideal products the customer look for:
higher performance, constant pressure, reduced consumption and high-quality materials.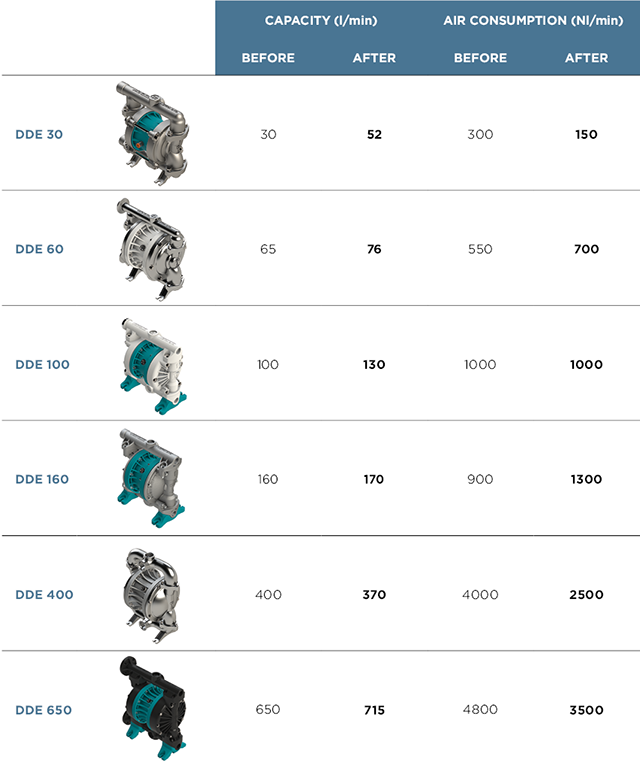 Materials
We offer many combinations of excellent materials chosen for their properties and characteristics according to the liquid to the pump.
PP +glass
- chemically and mechanically resistant thermoplastic polymer, ideal for corrosive and moderately abrasive liquids.
PVDF+carbon
- highly stable fluoropolymer with high abrasive resistance, ideal for highly abrasive and corrosive liquids and with high temperatures.
ALU
- light and recyclable material with excellent mechanical, chemical and electrical resistance, ideal for solvents.
AISI 316L
- high mechanical and chemical resistance ideal for corrosive agents such as solvents, hydrocarbons, organic fluids. Slightly resistant to strong acids.
Ex-proof version (ATEX directive)
All metallic and thermoplastic standard executions are adequate to operate in explosive atmospheres classified
Zone 2 (Serie II 3/3 IIB T4).
For operations in areas classified as
Zone 1 (Serie II 2/2 GD IIB T4)
, we offer pumps made of conductive parts for all thermoplastic and metallic versions.
Food version (FDA directive)
The
ASTRAevo
pumps are also available in the
FDA version.
Beyond the great performance and the premium quality components, our AODD pumps also offer reliability, safety and efficiency throughout the materials. The pump itself (whether the performance than the components or material of construction) can alter the final product quality which is why we took care of the smallest details, to meet the FDA conformity and our customers' requests.
ASTRAevo FOOD (SP)
's materials of construction comply with FDA regulation: the parts in contact with the liquid are made of electroplated AISI 316L and the surface roughness is made of 125 Ra (with an average of 2,7 μm) - both materials are certified for sensitive food applications. Obviously, the
FOOD version
complies as well with the
ATEX Zone 2 regulation (Ex-proof)
for operating in dangerous atmospheres. If the pump must operate in an
ATEX Z-1 atmosphere
, then the material of construction must be reinforced with conductive executions.
These pumps are made for transferring sensitive liquids that need to be processed carefully. They are usually installed where a quick release clamp connection is required, such as food and beverage plants (from chemical additives to dairy), pharmaceutical plant and medical appliances, biotechnologies, cosmetics as well as paint production. Within these sectors of application,
ASTRAevo FOOD pumps
can easily transfer liquids with temperatures up to 95°C and with very high viscosity: butter, whipped cream, mayonnaise, honey, marmalade, tomato sauce, yogurt, olive oil, toothpaste, gel, glycerine, shampoo, SAE70 and SAE30 oils, paper pulp in water, barbotine, grease lubricant, mineral oil, painting and more…
Configurations
Because we want to make our air-operated double diaphragm pumps fitting with every requirement of the market, we propose our customers many configurations.
ASTRAevo
pumps are settable for being easily installed as a self-priming pump, suspended pump, mounted on a trolley or with positive suction feature.
standard connections 2.O available connections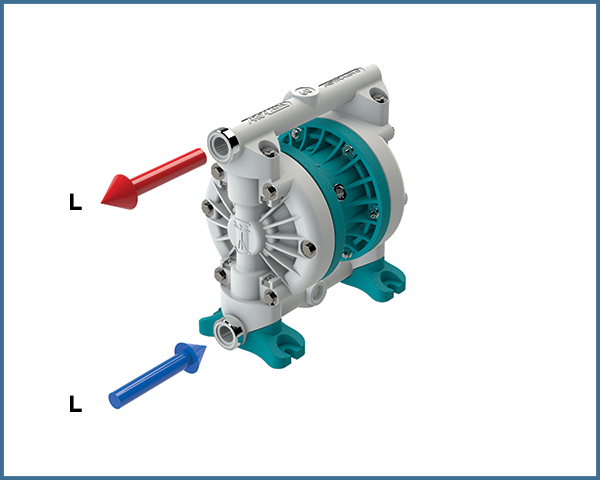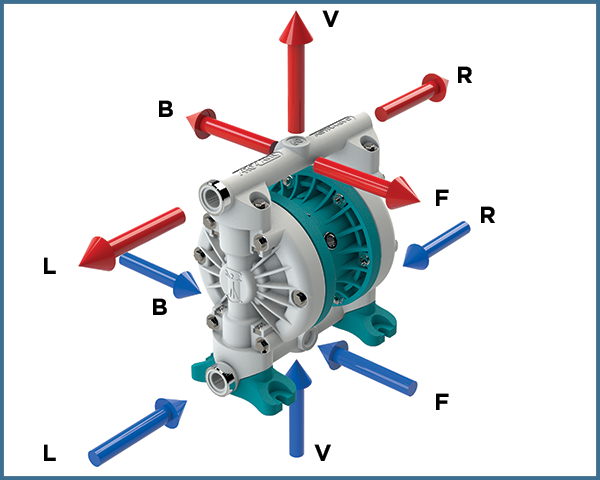 Thermoplastic and metallic pumps can be configured with all the connections available. For the
AISI 316L pumps
, connections are possible up to the
model 160
.
ASTRAevo FOOD pumps
are only settable with standard connections.
Setting your
AODD
pumps with the correct diaphragms - depending on the liquid pumped - is an important step to get the right solutions. Diaphragms are the heart of the pump allowing the pumping of every liquid, from aspiring to discharging. We offer a combination of various materials to ensure a totally safe transfer of liquids. The most popular diaphragms are made of
TFM (modified PTFE)
, especially into aerospace industry, or such as
VITON
, the best elastomers available on the market for high-temperature processes.
Because we want to offer tailored-made solutions, the
ASTRAevo pumps
can be completed with a wide range of accessories:
ARDROP
- Pneumatic batch dosing system (Ex-proof)
ARAIR
- Air regulator kit
ARCONTROL
- Pump monitoring kit
ARDRUM
- Drum transfer kit
ARGEMINI
- 2-liquid pumping kit
ARCOMBI
- Mobile emergency kit
ARFLEX
- Pump/plant anti vibration connections
ARGARD
- Diaphragm leakage detector
Innovative design for a unique construction
Our ADS (Air Distribution System) conceived by our Engineers is a 5-component construction with the advantages of being faster in the exchanging operation (aspiration/discharging). It also benefits from bigger air unloading capacities, which increases the pump efficiency without interfering with the air consumption. Plus, the use of anti abrasive and auto lubricating polymers helps in reducing notably the maintenance operations.
Our Engineers have re-thought the internal design of the pump to improve the performance: a supersized diameter of the inlet pipe to allow a more uniform transfer of the liquids and a better performance with viscous and dense liquids.
Applications
ASTRAevo AODD pumps
are commonly used in the industries requiring the transfer of chemical, corrosive and dangerous products:
Chemical industries (transfer of acids, alkalis, solvents, emulsions, waste…)
Surface treatments (transfer of chemical products from a reservoir to another, dosing or mixing products for the surface finishing processes or galvanizing process.
Water treatments (pumping acids, alkalis, waste water containing flocculants, suspended solids or particles)
Pulp and paper (moving glues, inks, bleaching products, cellulose, waste water)
Food or cosmetic industries (transferring and dosing sensitive products which must not suffer alterations or contaminations, such as creams, whipped cream, mayonnaise, eggs, milk, …)
Automotive and mechanics (transfer of oils, grease, lubricants, AD blue…)
Aerospace industries (refrigerant liquid)